In the Parish of Cromford, on Mill Lane, is the Parish Church of St. Mary's.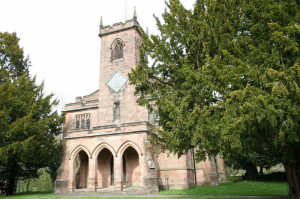 Originally planned as a chapel for Willersley Castle, by Sir Richard Arkwright, St. Mary's was completed five years after Sir Richard Arkwright's death in 1797.  In 2002 the church closed for four months while extensive renovation work was carried out, and was re-dedicated by the Bishop of Derby in April 2002.
The Arkwright family are buried in the small graveyard, and Sir Richard Arkwright is in the crypt which lies beneath the chancel and nave along with other members of the family.
The original Georgian church apparently consisted of a large rectangular open-plan nave and Sanctuary with the altar at the east end. In the mid-19th century the church was completely redesigned and extensively "Gothicised" in 1858-59 by Henry Isaac Stephens. The new church retained the wide proportions, Georgian nave and a new apsidal chancel and tower were added. The windows were remodelled and an exterior crenelated parapet and new roof added.
At this time the wonderful wall paintings and stained glass windows by A.O.Hemming to commemorate Queen Victoria's Jubilee were also added.
Through this site our hope is that you will gain a flavour of the life of our church and a sense of the warmth of God's love that has changed many lives. Whatever your reason for visiting, more than anything we want you to know about the life that can be found in Jesus Christ and how much of a difference this has made to us.

WELCOME TO OUR CHURCH OF ST. MARY'S CROMFORD
WE HOPE TO SEE YOU SOON