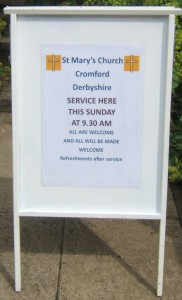 Forthcoming events at St Mary's Church in Cromford, Holy Trinity Church in Matlock Bath and Cromford Methodist Church:
---
Tea at Twothirtyish
The next meeting of Tea at Twothirtyish will be held at Huntley Green The Market Place, Cromford on a Friday To be Arranged
This is a meeting of members of St Mary's Church to enable everyone in Cromford village to see we are a living church. The Meeting is open to everyone and is just a good social occasion where we have a natter and cuppa and a yummy piece of cake. Everyone is welcome and there is no cost. Our thanks are given to Huntley Green who very kindly host this project.
Tel: Rev Grayshon on 583924 for information.
Email holytrinitymatlockbath@hotmail.com