The celebration of Easter at St Mary's Church was certainly an exceptional time. On Good Friday we had a reflective time, with a service a 2.00pm, and a walk with the cross to the Cromford Memorial grounds. The weather was awful with pouring rain and seemed to echo the darkness of Good Friday.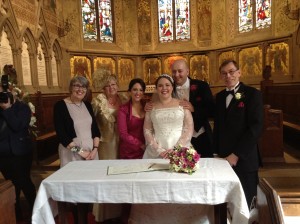 On Easter Saturday St Mary's hosted a superb Wedding Celebration for Elizabeth James and William Joseph Power. Liz and Will have attended our church for several months and it has been great to meet with them and share our worship. They had organised an inspiring group of musical family and friends who played and sang for everyone to join with them and we all appreciated this very much. Gus and Ellie Owen read from Corinthians Chapter 13 and it was a delight to see these two very young people standing at the lectern taking it in turns to read a verse at a time.
Oliver, Liz and Will's nephew wrote a prayer especially for the day and during prayers he read,
"Thank you for bringing together my Aunty Liz and Uncle Will for this their special Wedding Day. They love each other in your name and we pray that you will bless them with a love that will last forever. When they are sick and when they are well, may they find strength from you. When they are worried or in trouble, help them to see the way to go. When they are hurt, help them to know you are there. When they are lonely or upset, help them to be happy.

Thank you for their families. Help us all to feel your love and have faith in you. AMEN."
The sun shone all day and the couple were able to have lovely photographs inside and outside our lovely church. A wonderful reminder of a beautiful wedding.
On Easter Sunday we enjoyed an inspirational service of praise for our risen Lord. This was followed by refreshments to enable us to have a lovely social time together, a true celebration of Easter.